Event Details
September Chapter Meeting (2023 Employment Law)
| | |
| --- | --- |
| Date: | September 14, 2023, 11:00am – 1:00pm |
| Organizer: | Lynchburg Regional SHRM Inc. |
| Location: | Legacy Wealth Management Group Auditorium - 1971 English Tavern Rd, Lynchburg, VA 24501 |
| Price: | $15 for Members and $20 for Guests |
| Event Type: | |
| iCal link | |
Schedule: 11:00 am - 11:30 am Networking
11:30 am - 11:55 am Business Meeting
12:00 pm - 1:00 pm Presentation
Registration: Click here to register for the event!
Speaker: Randy Sparks
Topic: What Now?!!: 2023 Labor and Employment Law Update
As we continue to get back to normal (wishing thinking perhaps?), we are reminded that the old maxim "The more things change, the more they stay the same" certainly does not apply in HR. Employment laws seem to change every day. To effectively do their jobs, HR professionals must keep up with new laws and regulations, new court decisions, and new agency policies and agendas. In this interactive session, we will look at recent legal developments occurring in 2023 that impact HR professionals, including recent decisions from the courts on employment law issues, new and pending legislation, and the enforcement priorities of various federal agencies to enable you to help your company navigate our constantly changing business world.
Learning Objectives: After participating in this workshop, participants will be able to …
 Better understand developments and changes in labor and employment law;
 Better handle employee issues and foster positive employee relations in the handling of employment issues; and
 Ensure that company activities and policies comply with applicable law
Sponsors: USI

Certification:
Approved for SHRM Credit (1.00 PDC Credit Hour)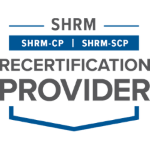 Approved for HRCI Credit (1.00 "General HR" Credit Hour)